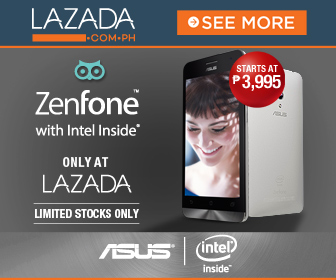 ASUS is certainly not letting any chance pass for setting the pace for the smartphone race – with its upcoming release of the Zenfone series via the country's biggest online shopping mall – www.lazada.com.ph
Starting

July 17, 7PM

, consumers can start to purchase the Zenfone 4, 5, and 6 from www.lazada.com.ph/shop-mobiles-tablets/asus. The arrival of the Zenfones in the Philippines marks a significant milestone for ASUS following the Zenfone's success in Taiwan, China, and the rest of South East Asia.
So what to expect from the ASUS Zenfone?

More Bang for your Buck! - Filipinos will enjoy the most value for their hard-earned money as the ASUS Zenfones offer great performance at an incredible price. Among the premier features is PixelMaster, a camera technology that is an essential part of the Zenfone experience. The exclusive PixelMaster camera technology makes it effortless to capture memorable photos and videos even in low lighting conditions.

Breathtaking User-Experience - All Zenfone models come with ASUS ZenUI, the all-new mobile user interface with over 1000 enhancements that make ASUS mobile devices even more fun and seamless to use;

Enviable Efficiency: The Zenfone Series features high-performance and power-efficient Intel® Atom™ processors to deliver outstanding mobile experiences. Zenfone offers an incredible user experience at a competitive price that will be a compelling proposition for consumers
If you think that the superb quality of the ASUS Zenfone is already the deal-maker, Lazada Philippines adds more to your shopping experience by providing effortless and risk-free shopping wherever and whenever you may be! With Lazada's Cash-on-delivery payment, you do not need to worry about shopping without a credit card; you can simply pay in cash once your ASUS Zenfone arrives at your doorstep – wherever in the Philippines you could be. With Lazada's logistical efficiency, distance is never an issue as it provides free nationwide delivery to any points in the Philippines for orders above PhP 1,000. But what if by any slim chance your purchase is not exactly to your liking? Lazada offers free returns within 30 days subject to terms and conditions.
Share the great news and experience style and zen-sibility this

July 14, 7PM

with the best offering yet of ASUS – the Zenfone Series through the Philippines' biggest online shopping mall
Lazada is Southeast Asia's largest online shopping mall, in the Philippines, Lazada remains to be the country's online shopping mall that is rapidly changing the retail scene across the archipelago. The company started operations in March 2012 and has quickly revolutionized the meaning of online shopping in a country where shopping in traditional malls is essentially the core lifestyle of every Filipino.
With the largest online assortment of products ranging from mobile and laptops to consumer electronics to books and media, health and beauty, home appliances, fashion and accessories, Lazada Philippines offer its wide customer base everything they need in one place.
Nested in its Head Office in Makati City with its 12,000-square meter warehouse in Muntinlupa City, Lazada Philippines holds a workforce of more than 300 highly-specialized and passionate employees, all of which are geared towards championing effortless and risk-free shopping in the country. Through its own courier service – the Lazada Express and in tandem with the most efficient logistics company in the Philippines, Lazada was able to break geographical boundaries in the 7100 islands in the Philippines and continue to provide customers from remote areas the Lazada shopping experience.
Since its establishment in the Philippines, Lazada continues to strive to live up to its objective of improving people's lives through effortless and risk-free shopping. It continues to offer products and retail solutions that combine sense and simplicity, with the end goal of providing superior value to its customers.
True to the Lazada brand promise, Lazada Philippines continues to offer its shoppers its cash-on-delivery payment mode, free nationwide shipping for transactions above PhP 1,000, and free returns within 30 days – making online shopping more practical for every Filipino.